Discover more from Liberty's Highlights
Exploration as a Service: Investing & business, science & technology, and the arts.
Over 20,000 subscribers
25: Mark Leonard Interview, Snowflake Deep-Dive, Nvidia Pays $40bn for ARM, 31% of Shopify for $7m, TikTok to Oracle
"I'm going to go for the cockpit," he said. "I'll take the tail," she replied.
Cities are basically reactors for converting human capital into other forms of capital. -Objects of Objects
This one has everything on the finance side… Mark Leonard, Snowflake, TikTok, Shopify, Nvidia and ARM…
---
Investing & Business
Mark Leonard: "I built a flamethrower" [Updated]
An interview with Mark Leonard, CEO and founder of Constellation Software, is the rarest of rare treats, so I'm quite happy to share this one with you.
I won't try to transcribe my highlights because there would be too many, but also because his style is not so much about a few punchy quotes, and this is more about learning to know the man a little better and how he thinks about business. But also because I'd like you to listen to the whole thing for yourself (the goal of the flamethrower quote is to entice you to find out what he meant):
Here's the link to the podcast. (h/t @Negative_GW)
Note that he's being interviewed by Jeff Bender, the head of the Harris group at Constellation and that the two of them have been working together for over 20 years, so it's also a peak into their working relationship and how Bender thinks about things at Harris.
By the way, I love that the first author that came to his mind when asked what he was reading as a young man on his masonry job is John Fowles. One of my favorite fiction authors, someone I don't hear often enough. He also made a Kurt Vonnegut Jr. joke a few years ago at the AGM. Clearly a very well-read person, including in fiction.
UPDATE: Oh no! It looks like the podcast was taken down… It was there at the moment when I sent the email. So sorry to all those who will be disappointed….
❄️ Muji's Snowflake Deep-Dive ❄️
Software developer and tech investor 'Muji' wrote a good long-form analysis of Snowflake. If you're curious about the company and its products, it's a good read. Maybe a little much for those who are entirely unfamiliar with this industry vertical (I'd maybe recommend something like this podcast for the basics):
In a nutshell, Snowflake wants to be the engine that drives all analytics – both business intelligence (BI) and data science (ML/AI) -- over the entire enterprise. They are a database-as-a-service (DBaaS) provider that is available across the 3 major cloud infrastructure-as-a-service (IaaS) environments of Amazon AWS, Microsoft Azure, & Google Cloud Platform (GCP).  They provide a turnkey cloud-native, scalable database platform with a heavy focus on enterprise concerns of security, governance & compliance, while having a rich ecosystem of integrations to ingest, BI and analytical tools & SaaS partners.
You can read the whole Snowflake deep-dive here.
Nvidia Buys ARM from Softbank for $40bn
On Sunday evening, it became official, Nvidia bought ARM from Softbank for $40bn:
Under the terms of the transaction, which has been approved by the boards of directors of NVIDIA, SBG and Arm, NVIDIA will pay to SoftBank a total of $21.5 billion in NVIDIA common stock and $12 billion in cash, which includes $2 billion payable at signing. The number of NVIDIA shares to be issued at closing is 44.3 million, determined using the average closing price of NVIDIA common stock for the last 30 trading days. Additionally, SoftBank may receive up to $5 billion in cash or common stock under an earn-out construct, subject to satisfaction of specific financial performance targets by Arm.

NVIDIA will also issue $1.5 billion in equity to Arm employees. [...]

Completion of the transaction is expected to take place in approximately 18 months.
That's a lot of moolah, and we'll have to wait and see the financials to know what kind of deal they made, but from a technological/strategic point of view, I can't think of a better owner (that would pass antitrust) for this asset.
NVIDIA intends to finance the cash portion of the transaction with balance sheet cash. The transaction does not include Arm's IoT Services Group.
They buried that last bit at the end of the press release. Just recently the Financial Times reported the opposite, that this IoT business was part of the deal… Guess it was removed again last minute.
It's clear that ARM will be worth more in the hands of Nvidia than Softbank, and that there are all kinds of engineering and strategic reasons for the combination, especially as Nvidia focuses more on the data center and the ARM ISA is making inroads there.
What did Softbank ever bring to ARM, except commodity capital? And was ARM ever capital constrained anyway? Or did Softbank just overpay by a big enough margin in 2016 that ARM couldn't say no…
Also from the FT, some 🔥:
Nvidia had a market valuation of roughly similar to that of Arm's at the time of the 2016 deal, but now trades with a market value of $300bn, or roughly 10 times the amount SoftBank paid in cash for Arm.
Trivia from the release: There's been 180 billion ARM chips sold so far.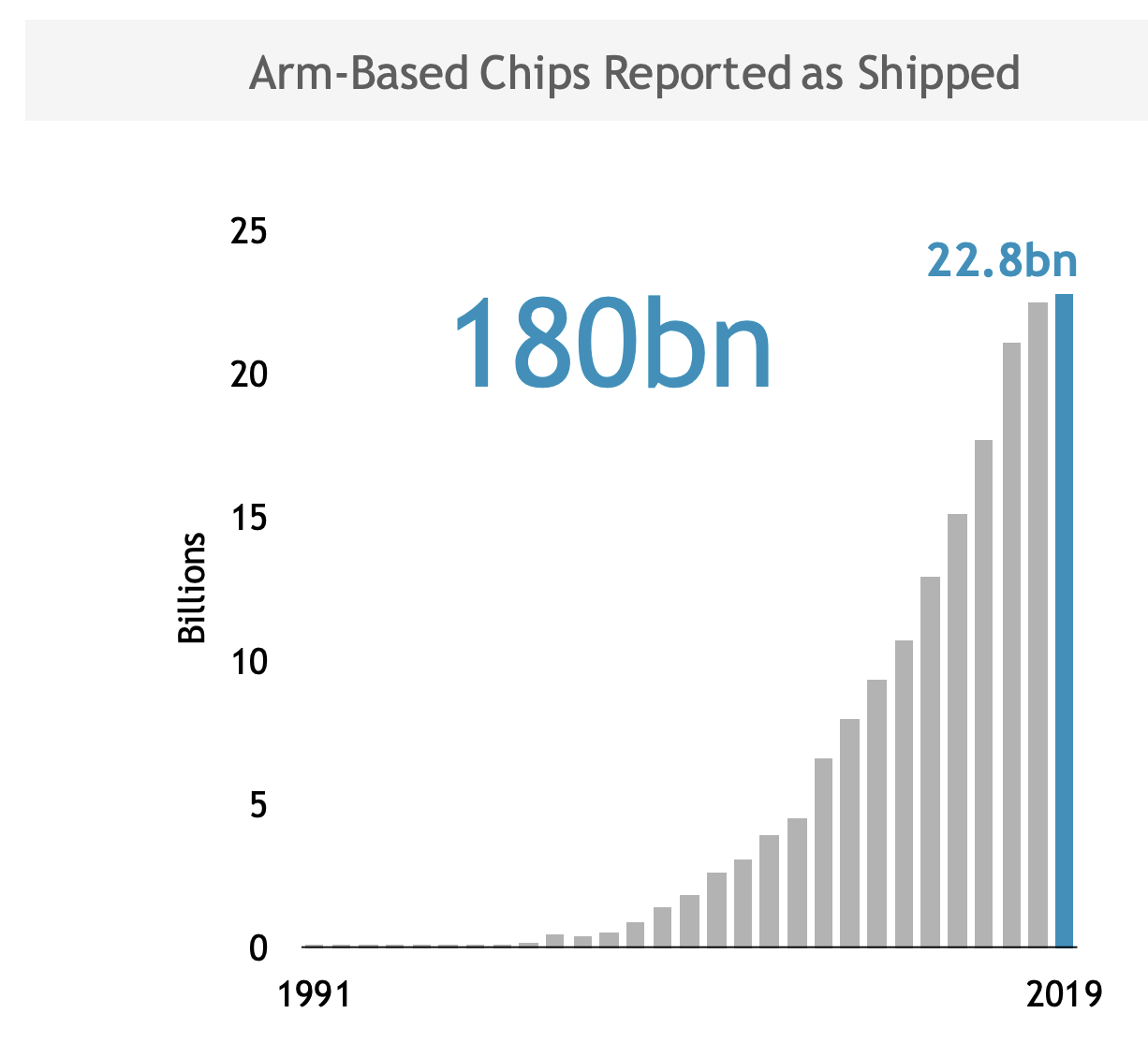 In a call this morning, a few ARM financials were revealed:
Pro-forma revenues of ˜$1.8bn (so price about 22.2x sales)

Pro-forma gross margins of ˜94%

Adjusted EBITDA margins of ˜35%
Jensen wrote this letter about the transaction.
Bytedance Rejects Microsoft, Goes for Oracle (?!)
On Sunday this important twist to the drama came out:
ByteDance, the Beijing-based parent company of TikTok, will not sell or transfer the algorithm behind the popular video-sharing app in any sale or divestment deal, according to a source briefed on the Chinese company's boardroom discussions.

With a looming US deadline for ByteDance to sell TikTok's US operations, the source said: "The car can be sold, but not the engine."

"The company [ByteDance] will not hand out source code to any US buyer, but the technology team of TikTok in the US can develop a new algorithm," the source told the South China Morning Post. The source, who did not want to be identified, said ByteDance had notified US authorities and potential bidders of the decision.
Anything having to do with China's government has a level of opacity, so it's not entirely clear if it's Beijing that told Bytedance, "you can't do it", or if Bytedance ended up deciding that it was in their interest to not share their tech… But if I had to bet, I'd say it's probably the former because of this (from Reuters):
Beijing opposes a forced sale of TikTok's U.S. operations by its Chinese owner ByteDance, and would prefer to see the short video app shut down in the United States, three people with direct knowledge of the matter said on Friday. [...]

Chinese officials believe a forced sale would make both ByteDance and China appear weak in the face of pressure from Washington, the sources said, speaking on condition of anonymity given the sensitivity of the situation. (Source)
The Art of the Deal, right?
Instead of trying to keep the U.S. government as neutral as possible and say that it was purely a national security matter, not a business matter, this turned into a bullying effort/smash & grab deal with "key money" and playing favorites among bidders based on relationships…
This changed the calculus for China. Who knows what they'd have done otherwise, but now they'd rather shoot the hostage.
Update: Later on Sunday, it came out that TikTok had rejected Microsoft's bid and went for Oracle (still sounds crazy to me):
Oracle is set to be announced as TikTok's "trusted tech partner" in the U.S., and the deal is likely not to be structured as an outright sale, the person said.
Whatever that means ¯\_(ツ)_/¯
I guess it makes more sense to mostly just provide infrastructure (like they do with Zoom) than to try to actually operate the thing.
Bessemer Memos on Past Investments (Shopify in 2010, Twilio in 2009, LinkedIn in 2006, etc)
Bessemer Venture Partners (not familiar with them at all) just did something very cool that I wish more investors (of all kinds, not just VCs) would do: Release old memos to see what they were thinking of at the time.
I've explained before that I'm a fan of keeping an investing journal with notes and thoughts and opinions and analysis, in part because it helps me remember things better, but also because you can later go back and see what you were actually thinking rather than the re-written version of history that your mind will automatically create with hindsight.
You can read the Bessemer memos here. Another cool thing the do is they editorialize from the present in the memo to explain what they were thinking when they wrote it, or what happened since.
Some highlights that stood out to me:
To: BVP Group
From: Alex Ferrara, Trevor Oelschig
Date: October 12, 2010
Re: Shopify

We seek approval for BVP to invest up to $7mm in the Series A financing of Shopify, a provider of e-commerce software to SMBs. Shopify sells a simple SaaS solution that enables a business to quickly setup and run an online retail store. [...]

Market Opportunity

The consumerization of enterprise software. The ability to offer cheap, consumer-like software opens a whole new market of customers (SMBs), who otherwise would find traditional enterprise software too complex and certainly too expensive. [...]

We are also excited by the potential to expand more aggressively beyond online retail and into brick & mortar businesses which desire an integrated online presence. It is in this area that Shopify is dedicating a large portion of its resources. [...]

Team

Shopify was founded in 2007 by two young Ruby on Rails core developers. One co-founder is no-longer active. The other, Tobi Lütke, is their CEO. Tobi is a relatively young programmer who was part of the Ruby on Rails core development team. Tobi has largely bootstrapped the business and has done a good job at that. He has a clear vision for building the business and recognizes his own shortcomings. We don't feel like there is any immediate need to replace him as CEO, but will need to ensure that he has more senior talent around him. [...]

Deal

This is a deal for BVP to invest $5mm at $25mm pre-money [...]

In addition, we anticipate an opportunity to purchase $2mm worth of common shares at a 25% discount from a co-founder who left the company several years ago. The additional $2mm would increase our exposure to $7mm, but also increase our ownership to 31% at an attractive price.
Can you imagine buying 31% of Shopify for $7 million?
Other memos here. Via Gavin Baker
Keeping Track of Your 'Anti-Portfolio'
Another cool thing that Bessemer does is keep track of companies that they didn't invest in. It's a good way to learn from your mistakes, and to see the true magnitude of errors.
If you don't track them, you can know you make a mistake, but you may not realize just quite how big the mistake was — in investing, what matters isn't just how often you are right or wrong, but also the magnitude of the wins and losses. One big win can compensate for many small losses, and vice versa.
Here's Bessemer's Anti Portfolio page.
One example is they passed on investing in Apple pre-IPO at a $60m valuation (they thought it was "outrageously expensive").
Financial Models
---
Science & Technology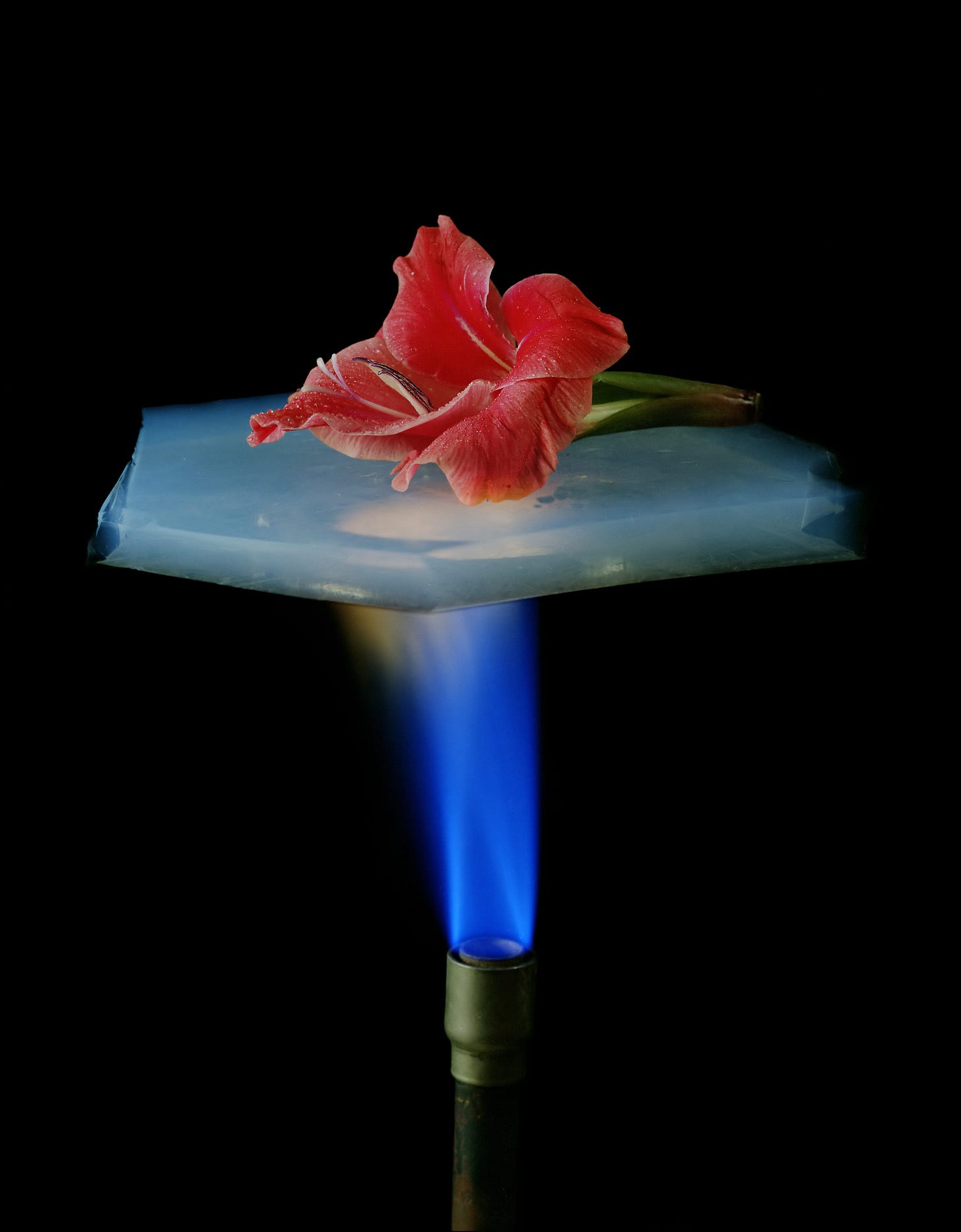 Aerogel (aka "Frozen Smoke")
Aerogel is a synthetic porous ultralight material derived from a gel, in which the liquid component for the gel has been replaced with a gas without significant collapse of the gel structure. The result is a solid with extremely low density and extremely low thermal conductivity (Source)
Yes, the flower in the photo above rests on a piece of aerogel that is only suspended in the air by the flame of the burner, and the flower is protected from the heat by just that incredibly light piece of aerogel ("100 times lighter than a polystyrene foam coffee cup, with a density of only 0.16 milligrams per cm³") Via Massimo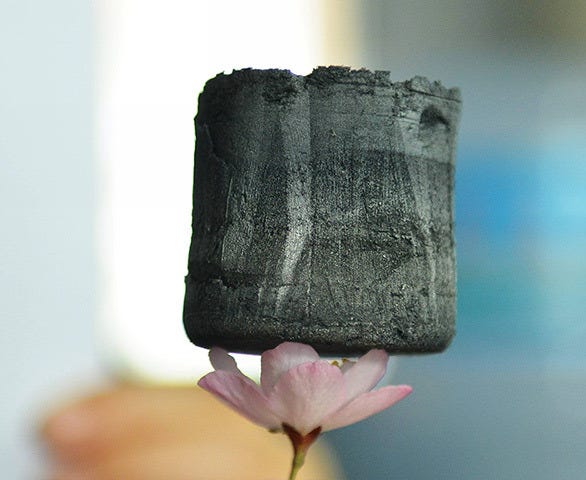 'The Emotional and Financial Costs of Infertility'
Ben Carlson shares his and his wife's personal story battling infertility.
The United States has one of the lowest rates of IVF babies in the developed world at roughly 2% of all births. In Denmark, the number is closer to 10%. The biggest reason for this difference? Government-sponsored health insurance pays for the procedure in Denmark while people in the United States are on their own. [...]

According to a deep dive by Fortune's Beth Kowitt on the business of babymaking, the average IVF baby costs in the neighborhood of $40,000 to $60,000. And the worst part about these costs is it comes out of your own pocket [...]

We had gone through all of our embryos and were faced with the proposition of doing another egg retrieval with no guarantee it would work or my wife wouldn't get sick again.

I should mention this was ten times harder on her than it was on me. She was the one going to the fertility clinic before work every morning for check-ups. She was the one putting huge needles in her body every night for weeks at a time to get the desired response. I was just there for emotional support. She was suffering both mentally and physically to make this happen for us. [...]

There's no one to talk to because it's such a bizarre situation that most people aren't familiar with so we felt like we were on an island going through this.

The questions from friends and family members were also coming hard and fast because we were at the age where people think you're supposed to have kids. No one ever means any harm by these questions but they're increasingly difficult to stomach when you're doing everything in your power to make it happen.
F-16 Fighter Pilot's 9/11 Story
Not quite sure where to put this story from 2016 as it doesn't quite fit my categories, but I thought it was worth highlighting:
Lt. Heather "Lucky" Penney was on a runway at Andrews Air Force Base and ready to fly. She had her hand on the throttle of an F-16 and she had her orders: Bring down United Airlines Flight 93. The day's fourth hijacked airliner seemed to be hurtling toward Washington. Penney, one of the first two combat pilots in the air that morning, was told to stop it.

The one thing she didn't have as she roared into the crystalline sky was live ammunition. Or missiles. Or anything at all to throw at a hostile aircraft.

Except her own plane. So that was the plan.

Because the surprise attacks were unfolding, in that innocent age, faster than they could arm war planes, Penney and her commanding officer went up to fly their jets straight into a Boeing 757.

"We wouldn't be shooting it down. We'd be ramming the aircraft," Penney recalls of her charge that day. "I would essentially be a kamikaze pilot."

For years, Penney, one of the first generation of female combat pilots in the country, gave no interviews about her experiences on Sept. 11 (which included, eventually, escorting Air Force One back into Washington's suddenly highly restricted airspace).
It was her first time scrambling a jet (normal pre-flight procedure takes maybe half-an-hour) and she had to quickly decide what she was going to do with another pilot:
"I'm going to go for the cockpit," Sasseville said.

She replied without hesitating.

"I'll take the tail."

It was a plan. And a pact. [...]

She muttered a fighter pilot's prayer — "God, don't let me [expletive] up" — and followed Sasse­ville into the sky. [...]

"We don't train to bring down airliners," said Sasseville, now stationed at the Pentagon. "If you just hit the engine, it could still glide and you could guide it to a target. My thought was the cockpit or the wing." [...]

Penney worried about missing the target if she tried to bail out.

"If you eject and your jet soars through without impact . . ." she trails off, the thought of failing more dreadful than the thought of dying. [...]

But she didn't have to die. She didn't have to knock down an airliner full of kids and salesmen and girlfriends. They did that themselves.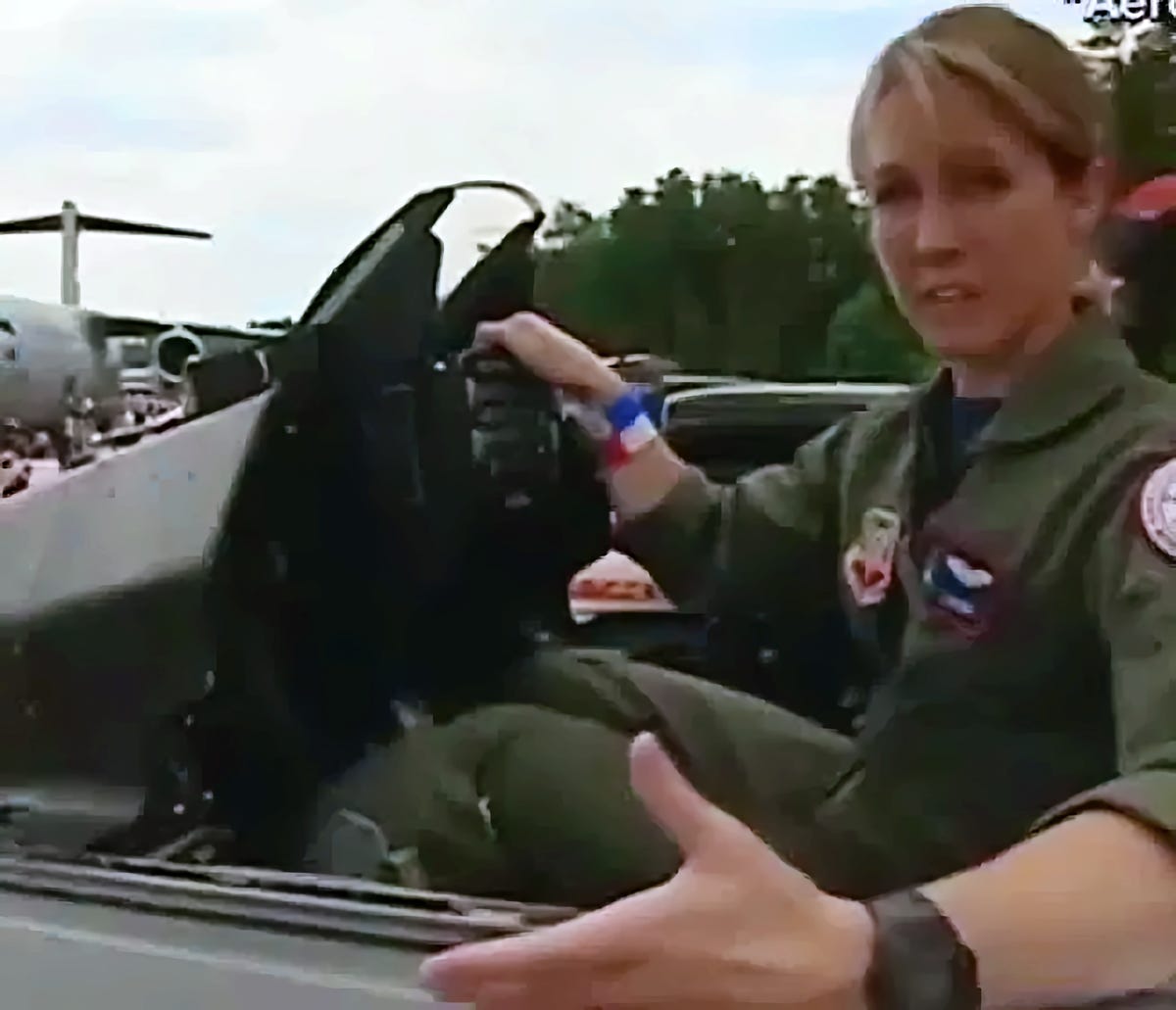 ---
The Arts
Toy Photography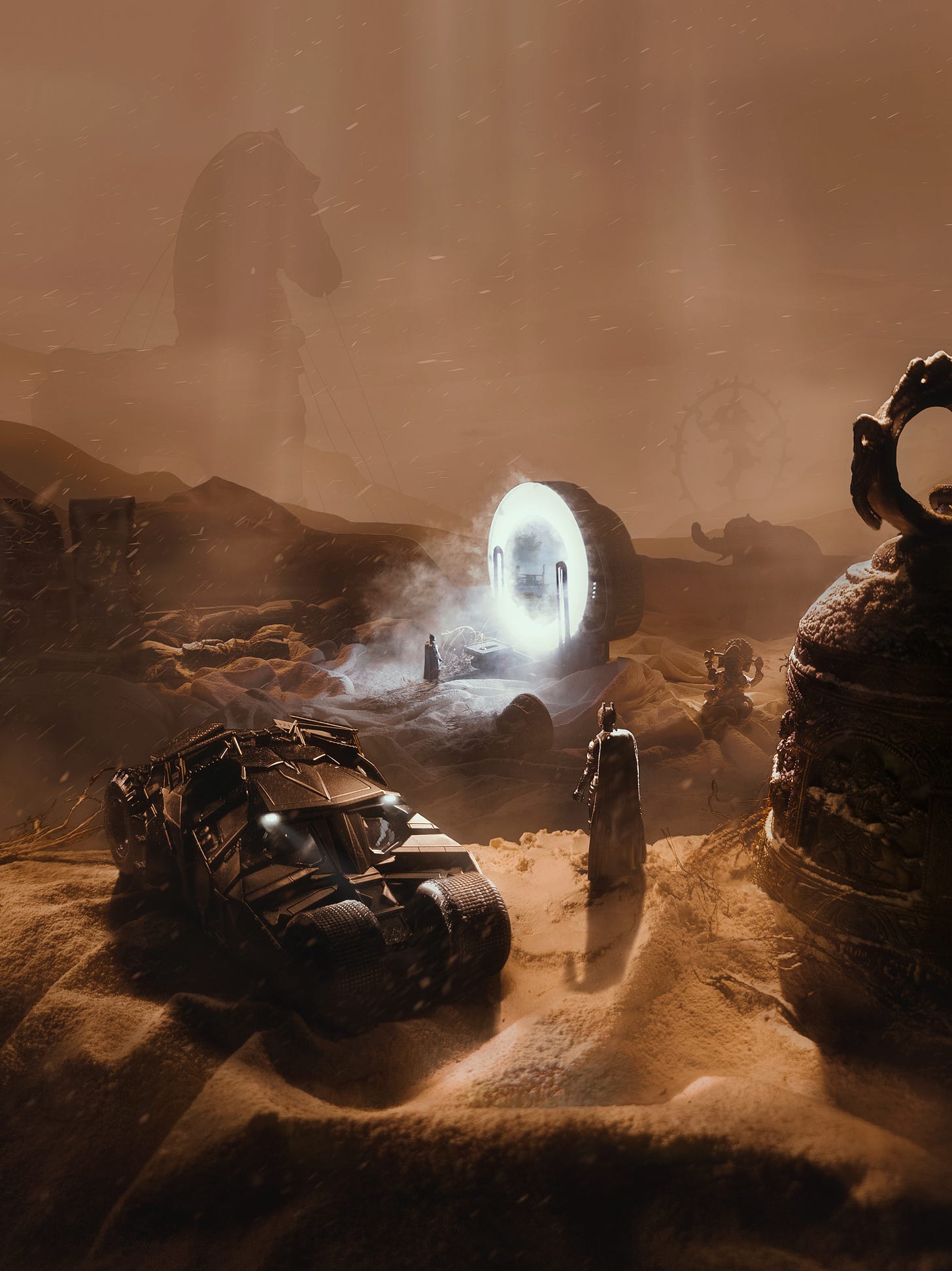 It goes to show, it's not about how expensive your gear is, it's about the quality of your imagination and how much you're willing to pay attention to details:
I started photographing (with phone) my old action figures with household objects during lockdown. Theme: Time portal. I used bed sheets with flour on it to show a deserted ancient landscape, home decor, my ring lights etc as props.
There's even a 'making of' video of this specific shot. To give you an idea: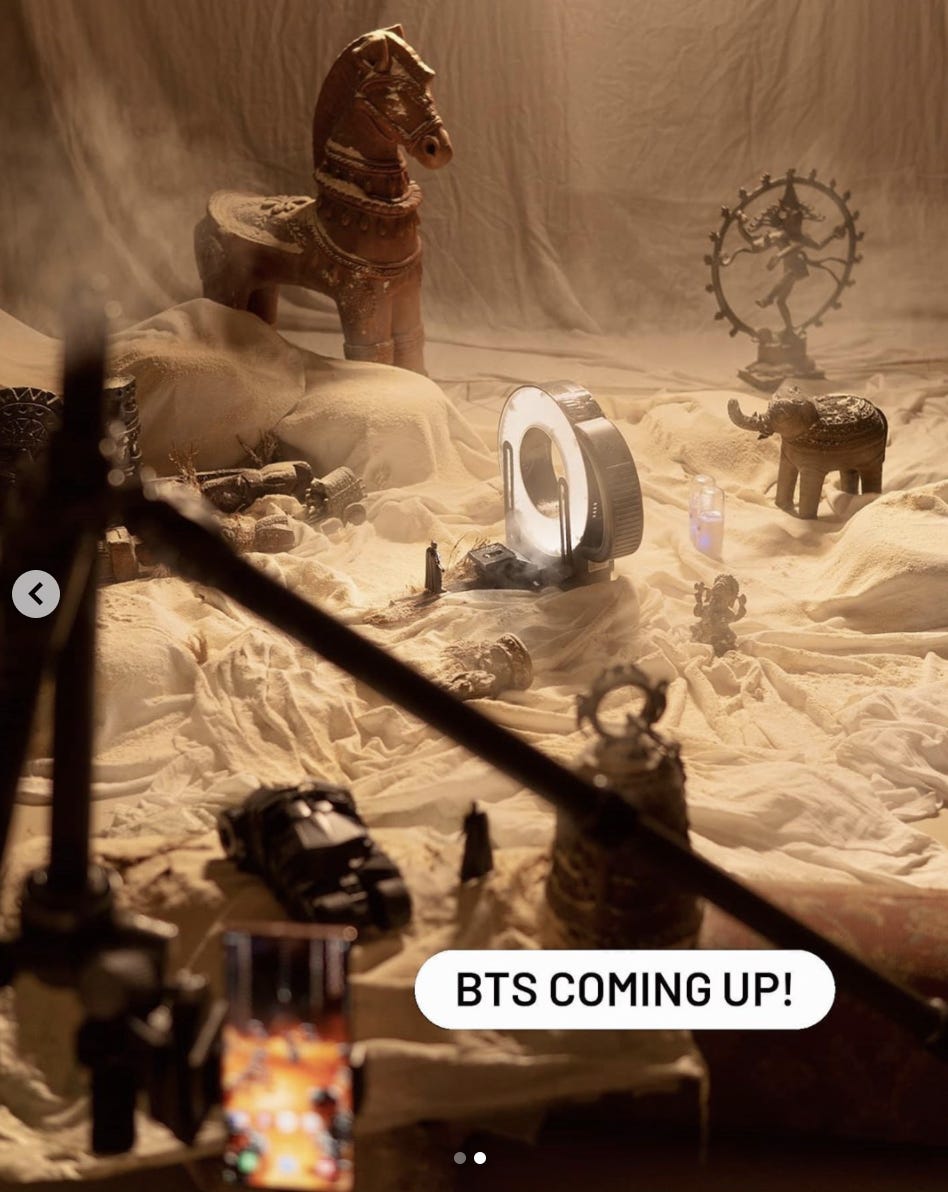 Source. artleavesamark's Instagram.
Random Poses Can be Good Portraits…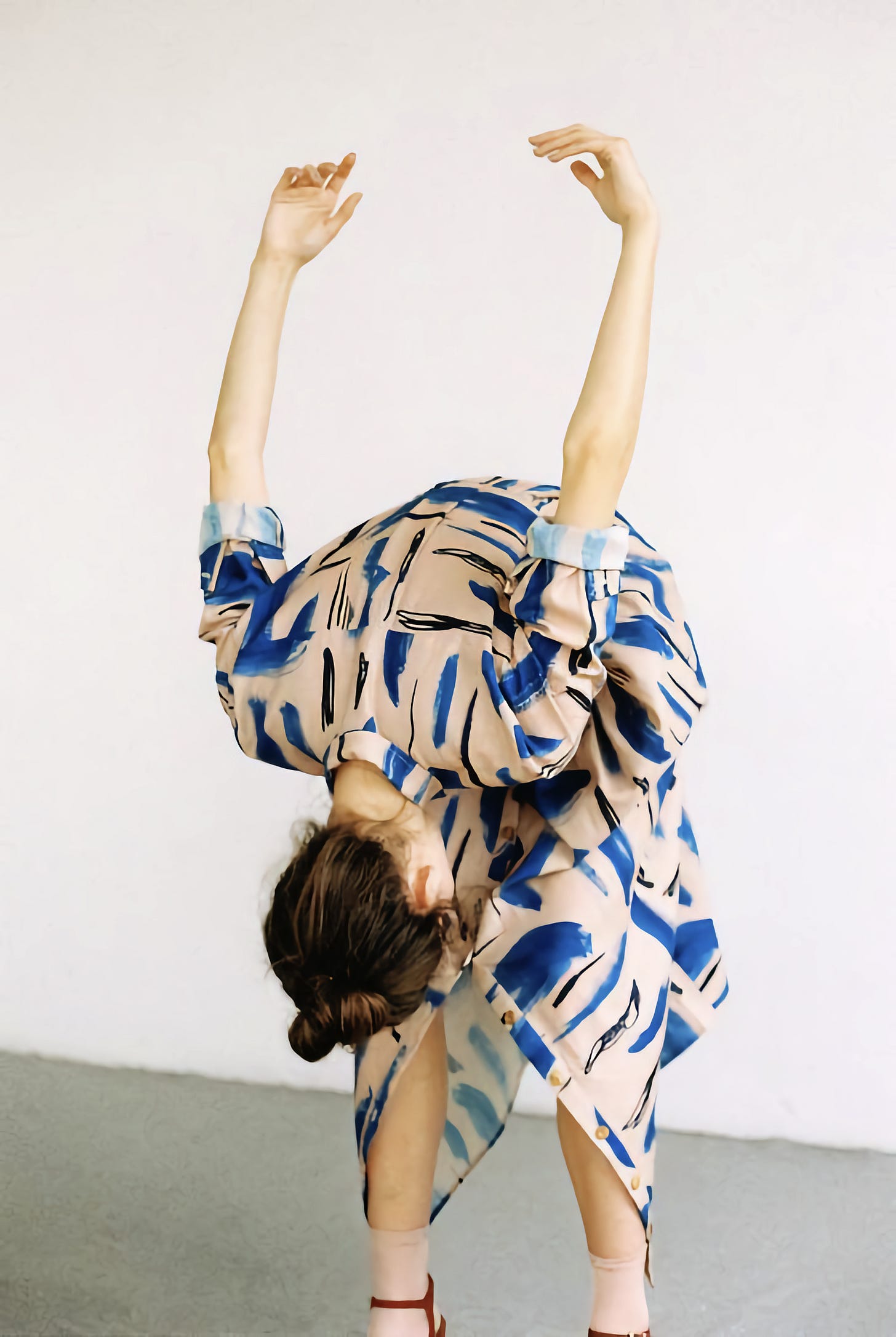 Guessing she may have just been stretching or playing around before a "real" portrait..? Source.