Discover more from Liberty's Highlights
Exploration as a Service: Investing & business, science & technology, and the arts.
Over 20,000 subscribers
38: Twitch Juggernaut, Adyen CEO Interview, What Segment Does, Softbank SPACs, the Brand Equation, Annie Duke, and Chernobyl
"don't ever be like Dyatlov"
A hundred times every day I remind myself that my inner and outer life are based on the labors of other men, living and dead, and that I must exert myself in order to give in the same measure as I have received and am still receiving. —Albert Einstein (yes, it's possible to un-ironically quote Einstein in 2020)
Saw this line recently, and it was a good reminder to try to do even better in all interactions, big and small:
"Some stranger somewhere still remembers you because you were kind to them when no one else was."
One thing I've been trying to do semi-regularly: When I get good service somewhere, I tell the person, and when they're particularly outstanding and I have the chance, I try to let their boss know (if they have one).
I usually phrase it something like: "I know you probably mostly get feedback when things go wrong and people aren't happy, so I just wanted to let you know that I think you're doing a really good job and I appreciate it. You're very good at what you're doing and professional, and it made my day better, so thank you."
A specific one I remember is my dental hygienist. I like to ask questions about the medical equipment and the techniques they use (with a tool in each hand controlled by pedals in the ground, they almost have to have limb motion independence like a drummer…).
If I detect that the person isn't interested, I usually stop the questions quickly, but she was answering everything with enthusiasm and otherwise doing a great job, so I told her I really appreciated it, and asked for her boss' email so I could write about how good a job I thought she was doing.
It's the golden rule: What would I like others to do if they thought I was doing a good job at what I'm doing.
→ If you're a US citizen, please vote. ←
---
Investing & Business
---
A Word From Our Sponsor
On Thursday, October 22 at 2pm ET, join alternative data provider Earnest Research and Sentieo for an analysis of several tickers, demonstrating how to get the complete picture in fundamental research to build a winning thesis. The webcast is free and open to everyone.
Register here, and, if you cannot make it, you will receive a link to the recording.
---
Interviewer Becomes Interviewee: Patrick O'Shaughnessy
I enjoyed this episode of the Acquired podcast where Patrick O'Shaughnessy, who usually sits in the interviewer's seat, gets interviewed and talks about his family's asset management business (OSAM), the creation of his podcast, and his path growing up.
I liked his brand equation (where he was paraphrasing Brent Beshore):
Brand = high quality + low variance + time
There's a section where Patrick talks about what he sees as his role/skillset in the finance/business information ecosystem, and he phrases it in a way that resonates with me: "I see myself more as a router than an originator".
I've always considered myself more an appreciator of the neat things and ideas that others come up with than a creator myself, which is why this newsletter is more centered on "highlights" of what I find than on my own thoughts (though there's some of that too, when I have something to add). I like the router terminology.
In a world where information and ideas are pretty far from scarce, there's value to filtering and curating and getting the ideas from their sources to the right people.
I've only recently discovered the Acquired podcast, but I also enjoyed the SpaceX episode.
Don't Let Go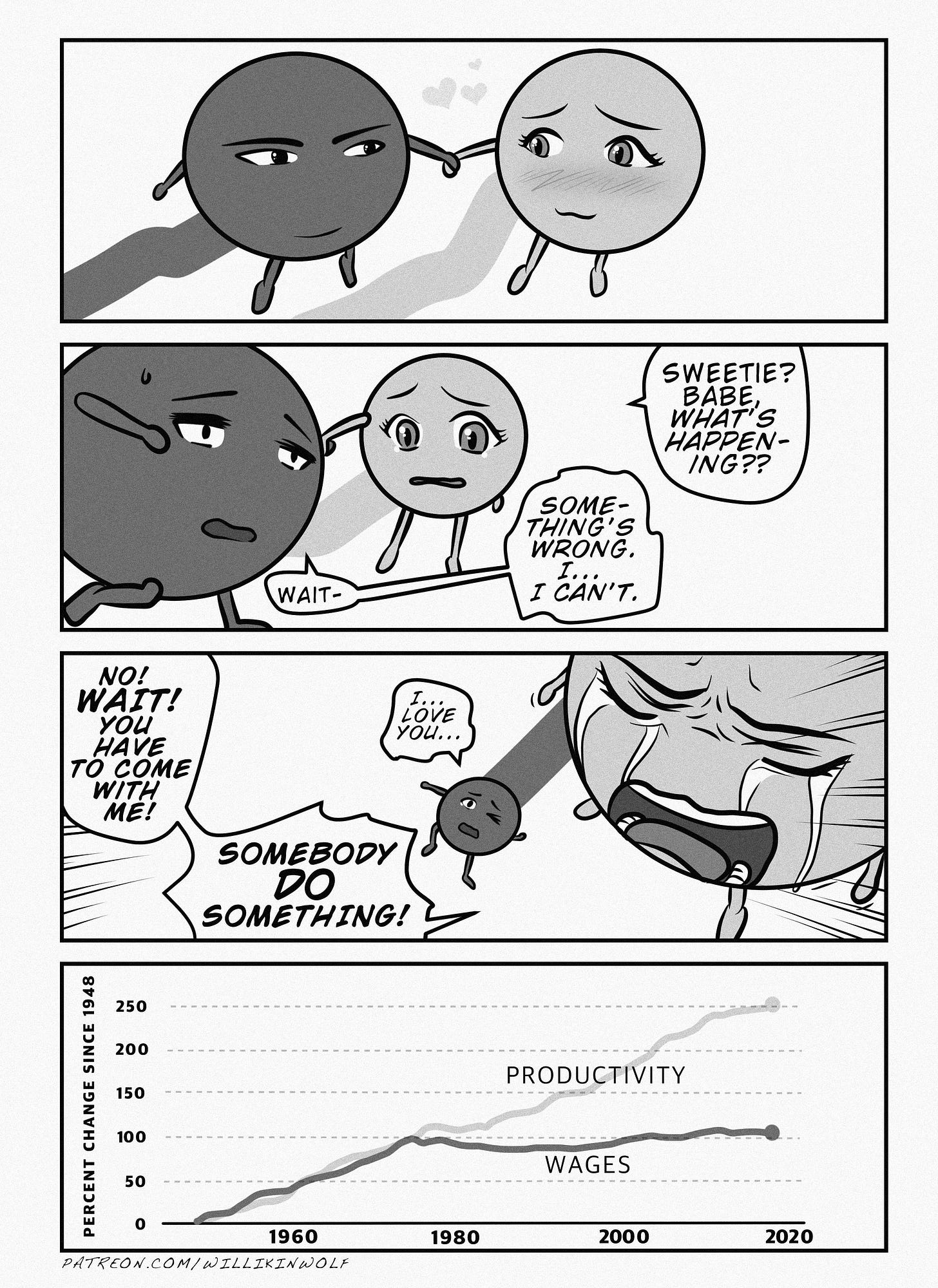 Source of the graph. Source of the comic. Artist's page.
Segment Startup Phase + What Segment Does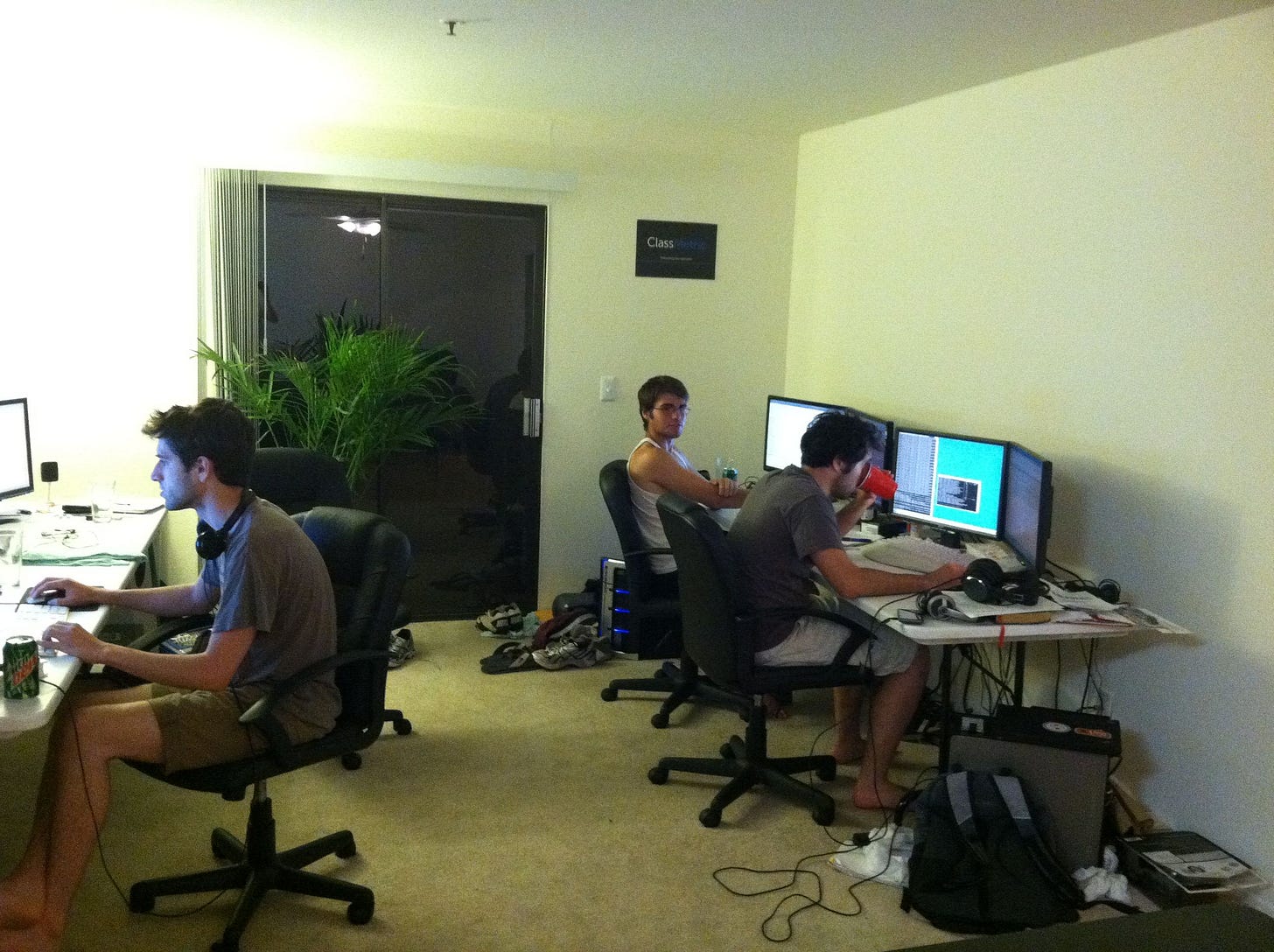 I like these photos (I posted one from Stripe here). From some coders in a tiny apartment to a $3.2bn all-stock deal with Twilio in less than a decade. Source.
If you're curious what Segment does, Justin at Technically has a good overview:
Segment is a routing platform for your customer data (what they call a "customer data platform"). Engineering and data teams use Segment to:

Fire events whenever their customers take actions in the product (e.g. page viewed)

Move data between standard sources, like Mixpanel to Salesforce

Manage customer profiles via a single "persona" and transform data on the fly

If these bullet points seem to have nothing to do with each other, you're onto something - Segment is really hard to explain because it does a lot of things all together, and until you understand all of them separately, it won't make sense. And that's why, in general, very few non-developers do actually understand what Segment does. 

Twitch: 63.6% of Hours Watched, 91.1% of Hours Streamed
The juggernaut of streaming has picked up pretty much all the streamers that were made homeless when Microsoft shut down Mixer:
Total Hours Watched

Viewers watched 4.74 billion hours of content on Twitch in Q3, an 8% decrease from 5.12 billion hours In Q2.

Twitch still holds a significant lead over Youtube Gaming, which is at 1.68 billion hours, and Facebook, which is at 1.04 billion hours.

Twitch experienced a 70% increase in year-over-year growth compared to Q3 2019's 2.79 billion hours watched.

Twitch now represents 63.6% of the market share for hours watched, down 2.7% from last quarter compared to Facebook and YouTube.

Total Hours Streamed

After experiencing a massive 68% increase from Q1 (121 million hours) to Q2 (203 million hours), Twitch has managed to sustain its record-breaking numbers in Q3.

Live streamers broadcasted 206 million hours of content on Twitch in Q3, a 1% increase from Q2.

Twitch had over 185 million more hours of content streamed to its platform in Q3 than Facebook and YouTube combined.

Twitch experienced a 96% increase year-over-year for hours streamed compared to 105 million hours in Q3 2019.

Twitch now represents 91.1% of the market share for hours streamed compared to Facebook and YouTube, a 14.5% increase from last quarter. This massive increase can be attributed to the shutdown of Mixer, which captured 14.2% of all content live-streamed last quarter.
The average concurrent viewership on Twitch reached 2.15 million, decreasing by 8% compared to Q2's record 2.34 million. Year-over-year, Twitch had a 69% increase in average concurrent viewership compared to Q3 2019's 1.27 million. Source.
Axios: 'SoftBank prepares to launch a SPAC'
SoftBank is planning to launch a blank check acquisition company in the upcoming weeks, according to comments made today at the Milken Virtual Conference by senior SoftBank executive Rajeev Misra. (Source)
Makes sense. Blank checks are already core to Softbank's model.
Interview: Pieter van der Does, Adyen CEO
I enjoyed this 2019 interview with Adyen's CEO. It's not very deep or technical, but it gives a decent overview of the company's history and vision/strategy, as well as of Pieter' history.
I think it's notable that he's a "round 2" founder that had previously created a company in the same space. This fits with the theory that I discussed in edition #27 about how in complex enterprise markets, it older founders may be advantaged vs younger ones.
New Book by Annie Duke
'How to Decide' came out yesterday. I haven't read it yet, obviously, but she's generally good at explaining the art and science of decision-making (some of it is purely math and probabilities, some of it is trying to avoid or mitigate cognitive biases and flawed heuristics), so I expect it to be good, especially to those who are newer to studying the space.
Jim O'Shaugnessy said that there would be an interview with Annie on his Infinite Loops podcast tomorrow (Thursday Oct. 15, 2020, if you're reading this in the future).
Giant Foxconn Factory in Wisconsin… Annnnnd It's Gone
The state of Wisconsin was supposed to provide Foxconn with $3 billion in subsidies over the next few years to support the construction of a massive LCD display factory in the state. [...]

Foxconn was supposed to spend $3.3 billion on the project by the end of 2019. Instead, Foxconn had only spent around $300 million by the end of the year. (Source)
Shocking, I know. It's almost like this was mostly a political stunt with no real economic logic or follow-through.
---
Science & Technology
Soviet Rocket Scientist Helped Kickstart the Space Race by Planting Stories in the Press
Another Russian 4D chess grandmaster:
[After being denied by the USSR Central Committee], the USSR's lead rocket scientist, Sergei Korolev, planted newspaper articles falsely suggesting approval for a Soviet space program. President Eisenhower responded by approving an American space program. This forced the Communist Party to approve the space program they previously denied. (Source)
More details here and here.
In February and March 1955, Korolev and Tikhonravov worked behind the scenes to orchestrate a detailed public announcement about the existence of the academy's interplanetary commission. The article, in dry and uninspiring prose, appeared on April 16, 1955, in the Moscow newspaper Vechernyaya moskva (Evening Moscow). Noting the creation of the commission, the anonymous author of the piece noted that the new body 'would coordinate and direct all work concerned with solving the problem of mastering cosmic space.' In the article, Keldysh's aide Karpenko was quoted as saying that 'one of the immediate tasks of the Commission is to organize work concerned with building an automatic laboratory for scientific research in space,' a claim which was most certainly not true. Western wire services immediately picked up the story and reported it prominently in the American press. A New York Times article in July, for example, noted that '[i]intense Soviet interest in achieving priority over all other nations in regard to all aspects of interplanetary flight has been evident for some years.' The Times went on to recount the various recent articles in the Soviet media on space exploration and then described the Vechernyaya moskva statement. 'The United States and the Soviet Union now appear to be in a race for the glory of making the first step toward interplanetary flight,' the article concluded.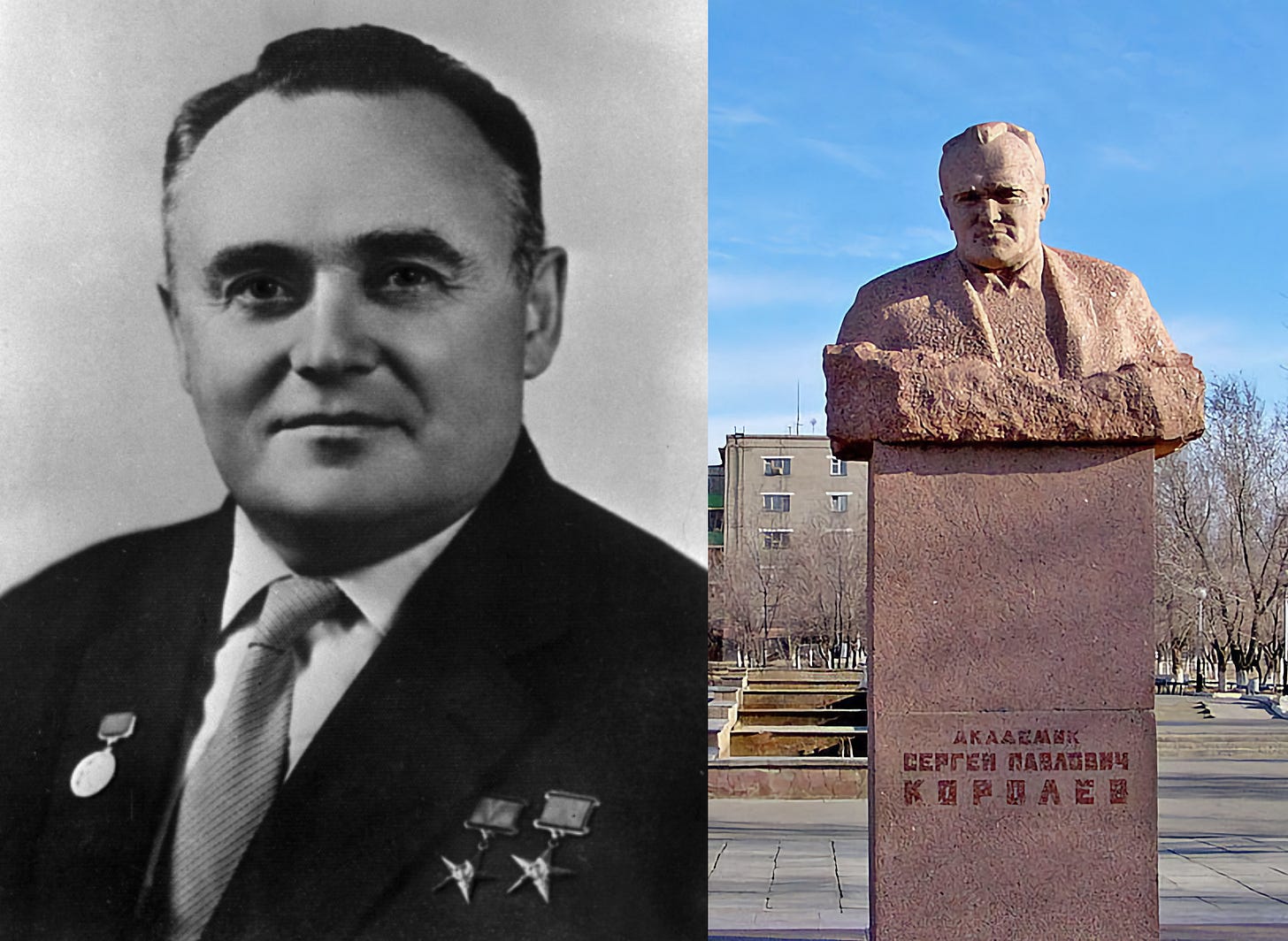 Sadly for Korolev, he didn't exactly have an easy life, or even live to see his dream, according to this:
I'll also note that the Soviets refused to identify Sergei Korolev as the man responsible for their space program, denying him a chance at the Nobel Prize when the Nobel committee inquired. Even the Soviets in the space program who reported to him directly did not know or use his name, just his title.

Some people also think the effort of keeping up with the Americans killed Korolev due to overwork. He had medical issues in part because he spent six years in Soviet prison camps under Stalin [where he lost his teeth due to scurvy], and after his first heart attack he had been warned to take it easy, but he feared that the space program would die without him. He died at age 59 about two and a half years before the Americans reached the Moon, and his identity and accomplishments were first revealed in his obituary. (Source)
And btw, I can't read the phrase "planting stories in the press" without hearing it in Bob Dylan's voice (second line of the song, right at the beginning).
Programming Humor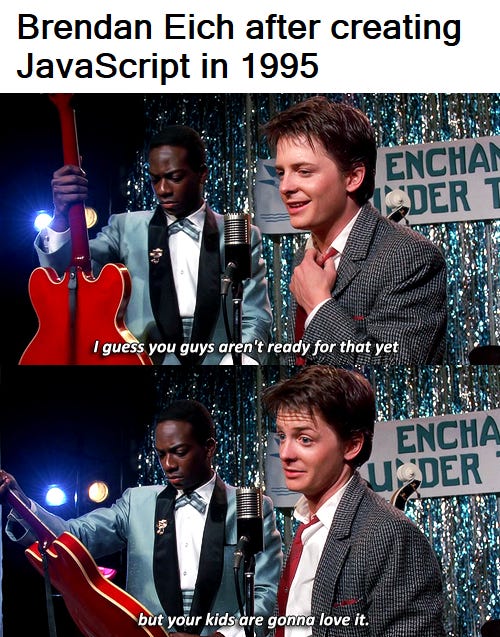 h/t Vlad
---
The Arts & History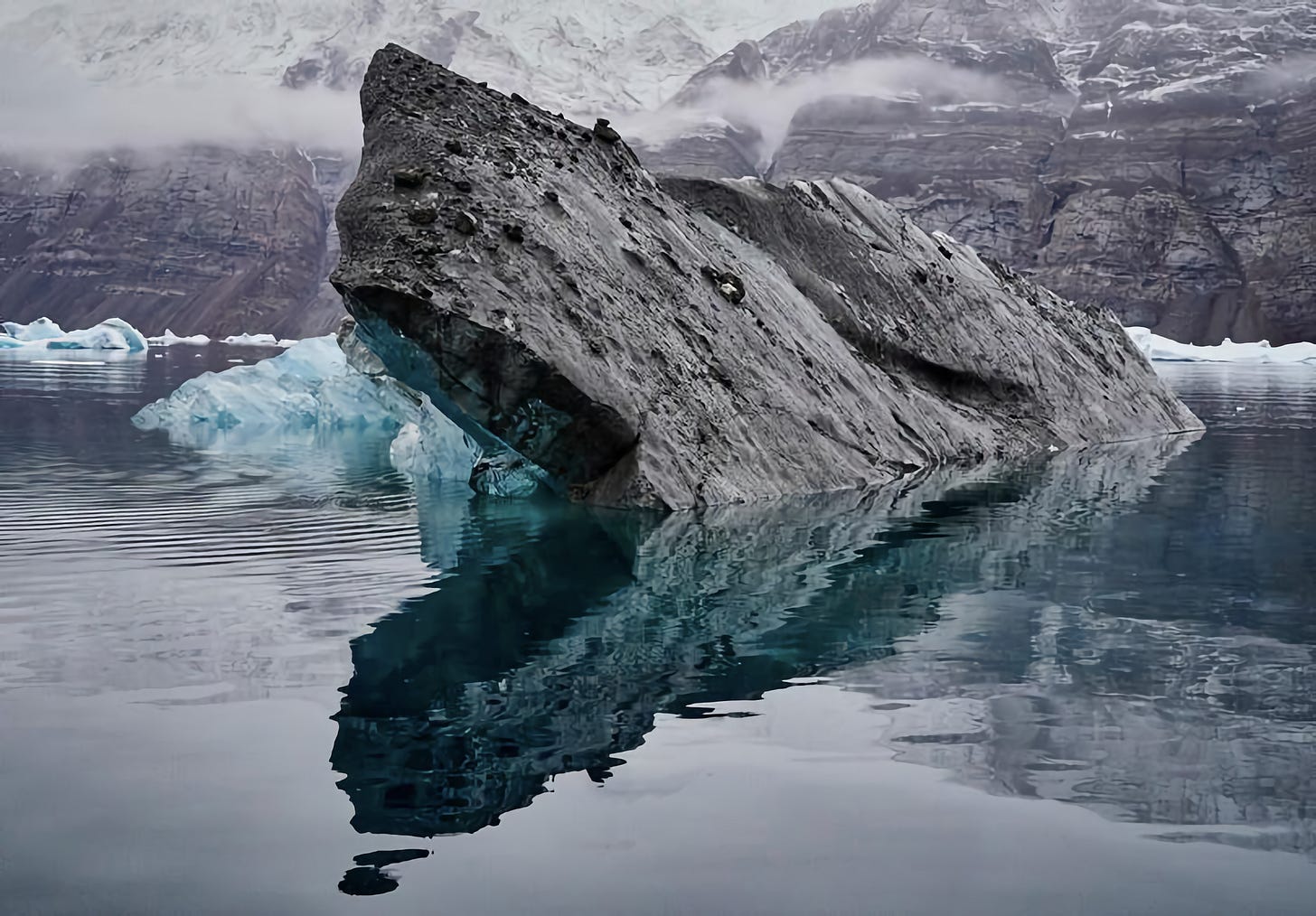 ROAR!
Chernobyl
"What is the cost of lies?"
This powerful line opens, and closes, this masterpiece of a mini-series.
"Every lie we tell incurs a debt to the truth. Sooner or later, that debt is paid."
I really enjoyed it, and thought it truly was firing on all cylinders: The subject matter is very interesting to begin with, and most people, even those who know the broad outline of what happened, probably don't know much of the details of the story (technical and human). The acting was great, the writing very strong, the production, direction, and cinematography were top notch… There's really very little that I can complain about.
There's a lot to learn about the human condition in there. But mostly: don't ever be like Dyatlov, who was in charge that night, and exhibited all the anti-virtues & never listened or let facts get in the way of his narrative…
By the fourth episode I started feeling like it was getting into epilogue territory because of the structure — the big event happens up front — but they found a way to loop it back in the last episode and finish very strong.
I've enjoyed listening to both the official Chernobyl podcast with show creator Craig Mazin and the coverage by the Science Fiction Film Podcast guys at LSG Media (episode 1, episode 2, episode 3, episode 4, episode 5).
If you want even more, here's a 27-minute video going into details about how Chernobyl's reactor exploded.
I liked it enough that I ordered this t-shirt: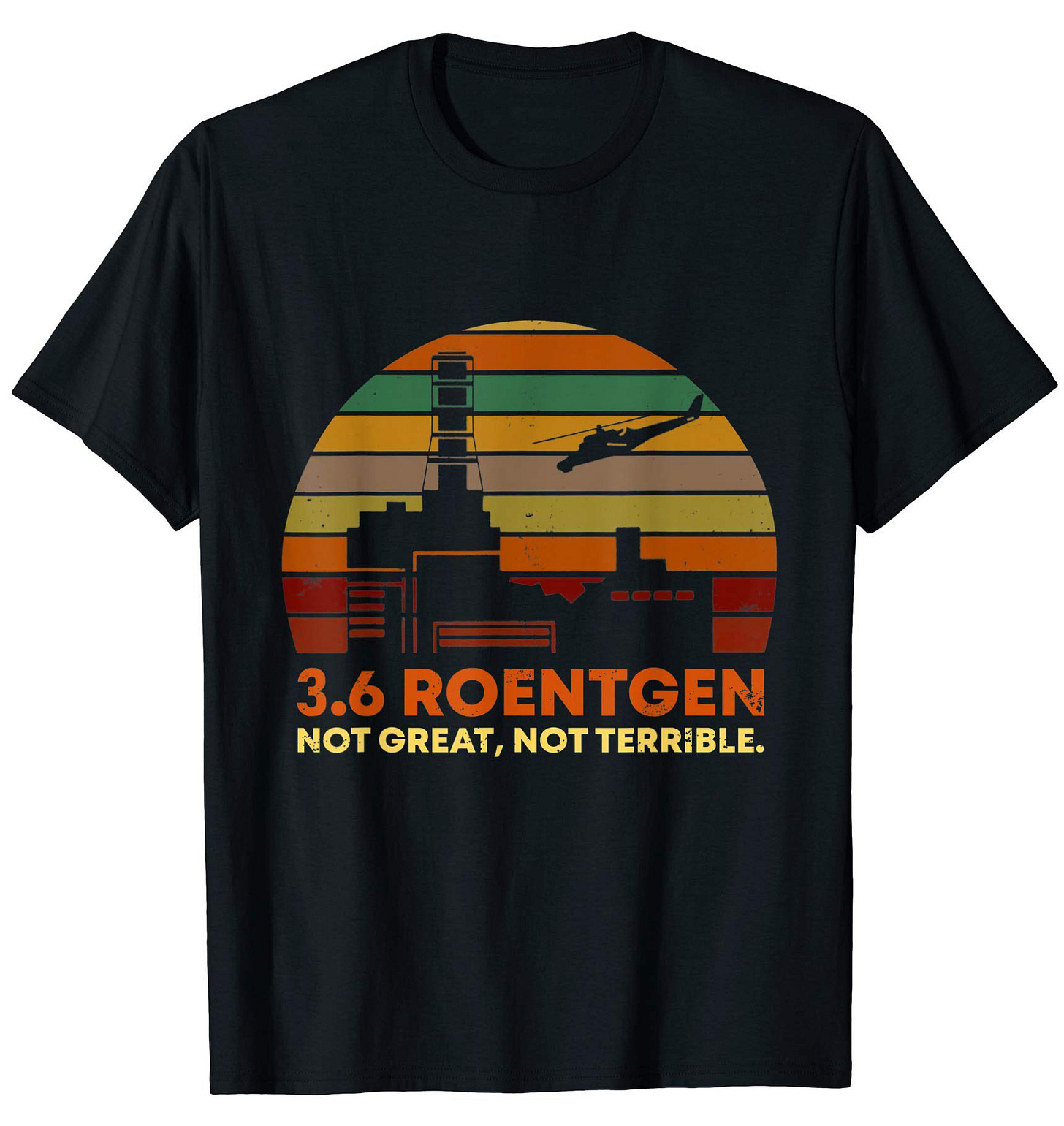 h/t Modern Major Generalist for pointing it out to me.