Discover more from Liberty's Highlights
Exploration as a Service: Investing & business, science & technology, and the arts.
Over 20,000 subscribers
457: OpenAI's GPT-4 Turbo & GPTs, Elon Musk's xAI Grok 1, YouTube vs Ad-Blockers, Mini-Berkshires, Leucadia, Meta, and Dengue
"Like Mulder, people want to believe"
You see only 2% of another person, and they see only 2% of you. Attune yourselves to the hidden 98%.
–Kevin Kelly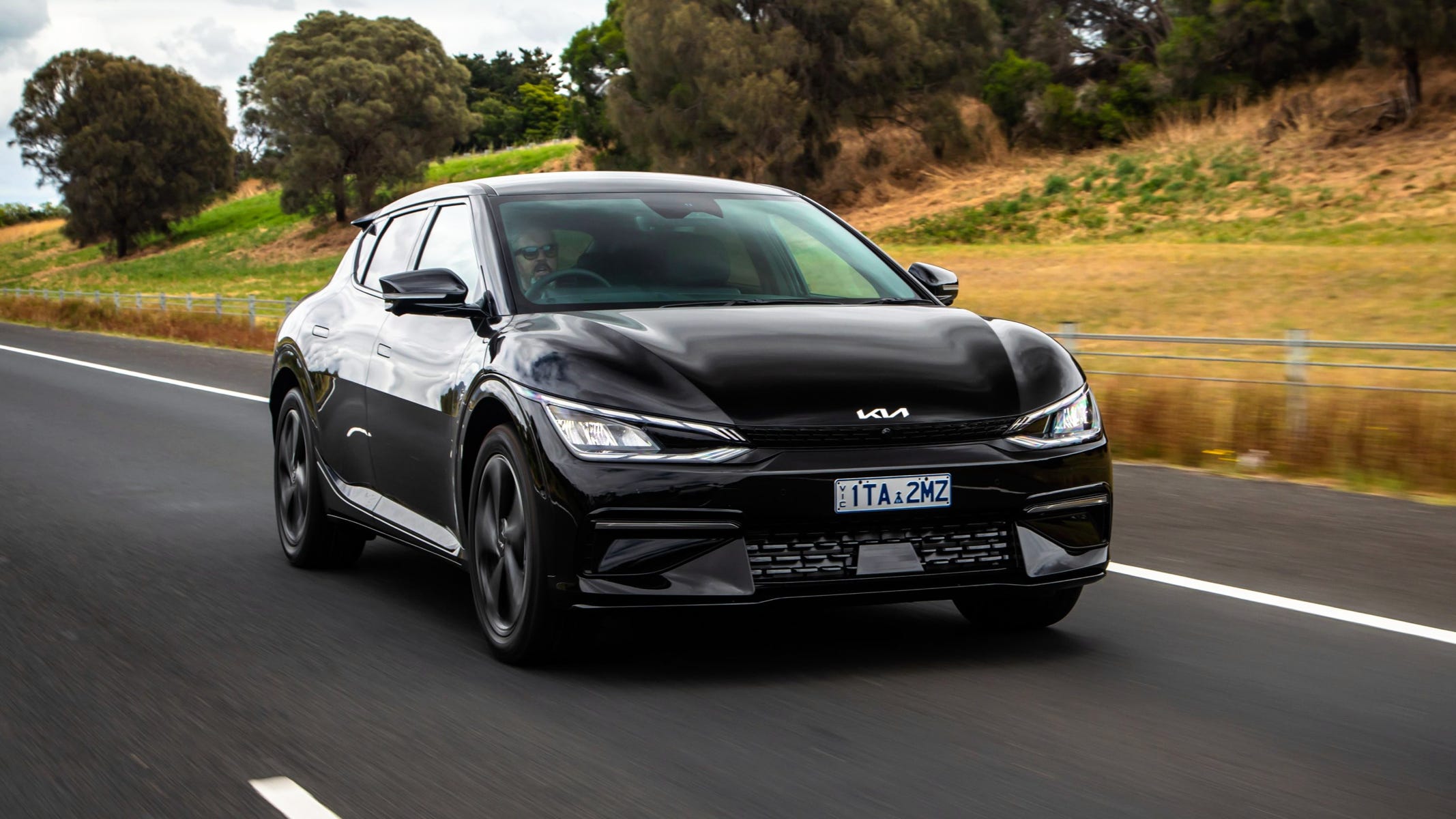 🔌🚘🔋 My wife and I are atypical compared to our peers when it comes to vehicles.
We have always been a one-car family, and we typically drive 12,000 km/7,500 miles per year. This is mainly because I've been working from home since graduating from university almost 20 years ago, and my wife either takes the bus to commute or works from home (since the pandemic).
I'm telling you because I'm picking up our new car later today:
It's a black Kia EV6 AWD GT-line 1. It's all-electric with a 77kwh battery and two motors that produce a combined 446 lb·ft of torque. It will replace our 2010 Toyota Corolla, which barely has over 100k miles on it.
Our first new car in ˜14 years. It'll be quite the upgrade!
I will share my early impressions of going electric with you soon.
🥋📹🤖 I went to see a Brazilian Jiu-Jitsu tournament with my 9-year-old boy.
While watching the fights, I couldn't help but think about creating an AI for BJJ.
What if you could feed it thousands and thousands of hours of video from real fights, training, drills, etc. You could also train it on other martial arts, in case there are interesting connections/patterns to be found and transferred over.
Perhaps it could break down existing moves in more granular ways than we do (smaller chunks) and then come up with new variants or improvements based on this better classification? Maybe devise new counter-moves or sequences designed to better fool your opponent about your true intentions?
Could it create entirely new moves nobody had ever thought about? Improve old ones?
Will we ever have the AlphaZero of MMA? Will every fighter have a human coach and an AI coach? 🤔
📚 📦📦🍌 When I visited Jim O'Shaughnessy (💚 🥃 🎩) recently, the two-feet-high pile of books he gave me couldn't fit in my luggage so he had them shipped separately.
Two separate boxes! (banana for scale)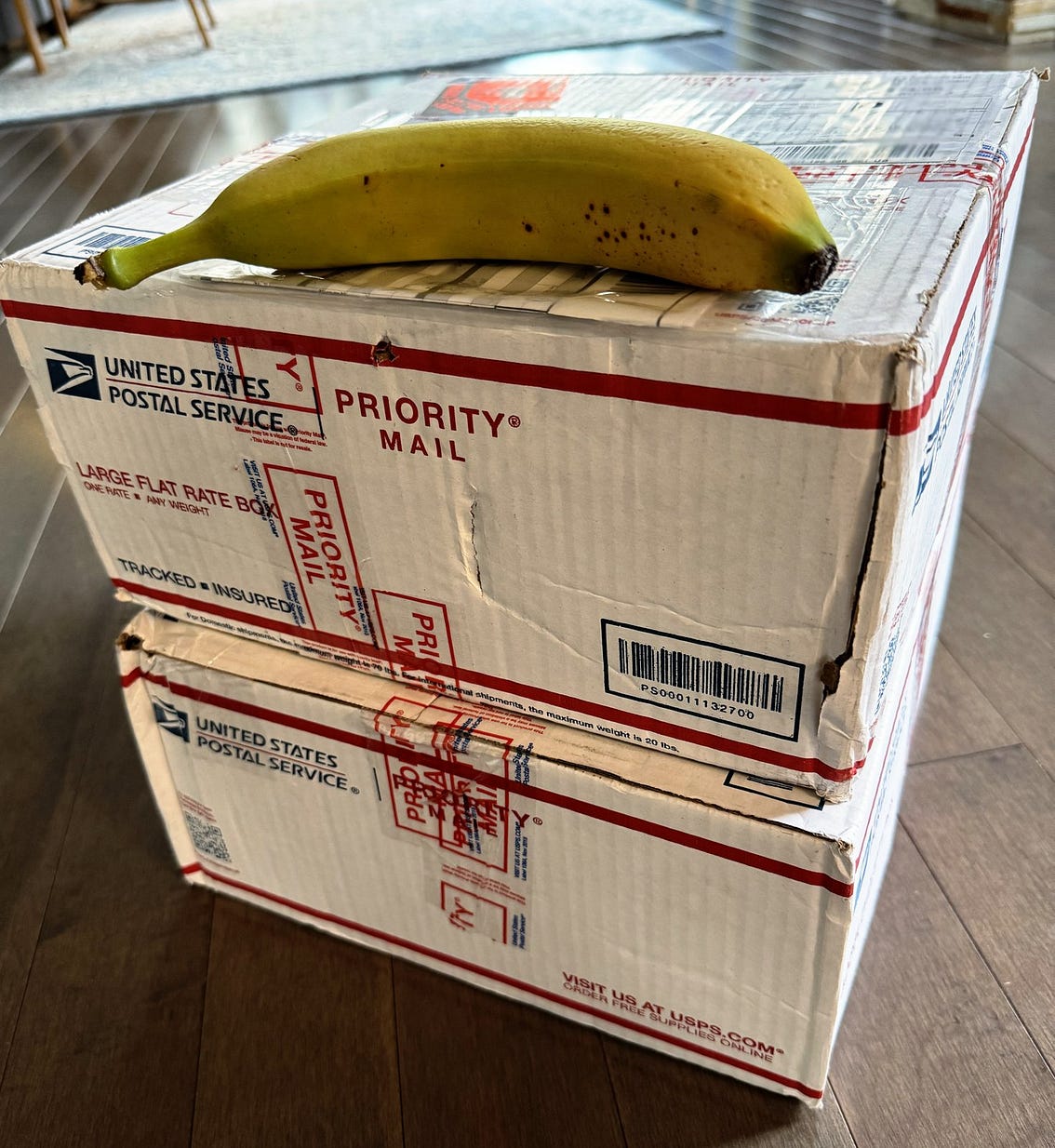 🪄⌚️🧐 I really enjoyed this video in which a magician demonstrates techniques used by pickpockets. The most advanced one, rated level 9, was particularly impressive!
💚 🥃 🐇 If you're an Extra-Deluxe subscriber, you will soon get an email from me to set up a group Zoom call with me and other Extra-Deluxe subs. I think it'll be fun!
And if we all like it, I may do this on the semi-regular 🗓️
(if you sign up in the meantime, I'll also reach out)
---
🏦 💰 Liberty Capital 💳 💴
🤖 OpenAI releases GPT-4 Turbo, Custom GPTs, and more 🤖
I have not yet had much time to play with the new models, so I'm still forming an opinion (interestingly, both OpenAI and Google Bard are down this morning— I wonder if when one goes down, the redirected traffic to the other creates a cascading failure effect 🤔).
But the new models seem like a good step forward in both capabilities and efficiency. Here are my highlights on what has been announced by OpenAI this week:
GPT-4 Turbo is more capable and has knowledge of world events up to April 2023. It has a 128k context window so it can fit the equivalent of more than 300 pages of text in a single prompt. We also optimized its performance so we are able to offer GPT-4 Turbo at a 3x cheaper price for input tokens and a 2x cheaper price for output tokens compared to GPT-4.
The original GPT-4 has a context window of 8,000 tokens, but there's also a 32k version. Going to 128k is a pretty huge jump.
Taken in the context of the lower price too, I suspect that this isn't just about throwing more hardware at it and benefitting from lower RAM prices… There's got to be a lot of software/model optimization leading to higher performance, larger context window, *and* 2-3x cheaper price.
Altman also mentioned that they wouldn't let the model get as stale going forward, so we can expect more frequent updates to the knowledge cutoff date.
In addition to GPT-4 Turbo, we are also releasing a new version of GPT-3.5 Turbo that supports a 16K context window by default. The new 3.5 Turbo supports improved instruction following, JSON mode, and parallel function calling.
This is also a big deal because most people who are using ChatGPT are not paying for it, so they are using the 3.5 Turbo model (as an aside — a lot of people who aren't that impressed by AI have never even tried the latest multi-modal GPT-4).
We're rolling out custom versions of ChatGPT that you can create for a specific purpose—called GPTs. GPTs are a new way for anyone to create a tailored version of ChatGPT to be more helpful in their daily life, at specific tasks, at work, or at home—and then share that creation with others.
They're creating a kind of app store for tuned models…
Starting today, you can create GPTs and share them publicly. Later this month, we're launching the GPT Store, featuring creations by verified builders.

Once in the store, GPTs become searchable and may climb the leaderboards. […] In the coming months, you'll also be able to earn money based on how many people are using your GPT.
It'll be interesting to see how far the customization can go, and how easy it is to make something very different from OpenAI's vanilla model. Are there really tight guardrails that devs will constantly bump up against?
Another thing to note: OpenAI is clearly trying to own the letters "GPT" even though they're originally just a generic acronym for "Generative Pre-trained Transformer".
It makes sense from a branding perspective, but it reminds me of the MP3 era, another time when a technical acronym got a ton of mindshare in the consumer world.
Developers can integrate DALL·E 3, which we recently launched to ChatGPT Plus and Enterprise users, directly into their apps and products through our Images API by specifying dall-e-3 as the model.
As someone who loves to play with generative AI for images, DALL·E 3 is very impressive (I posted a few images I made here).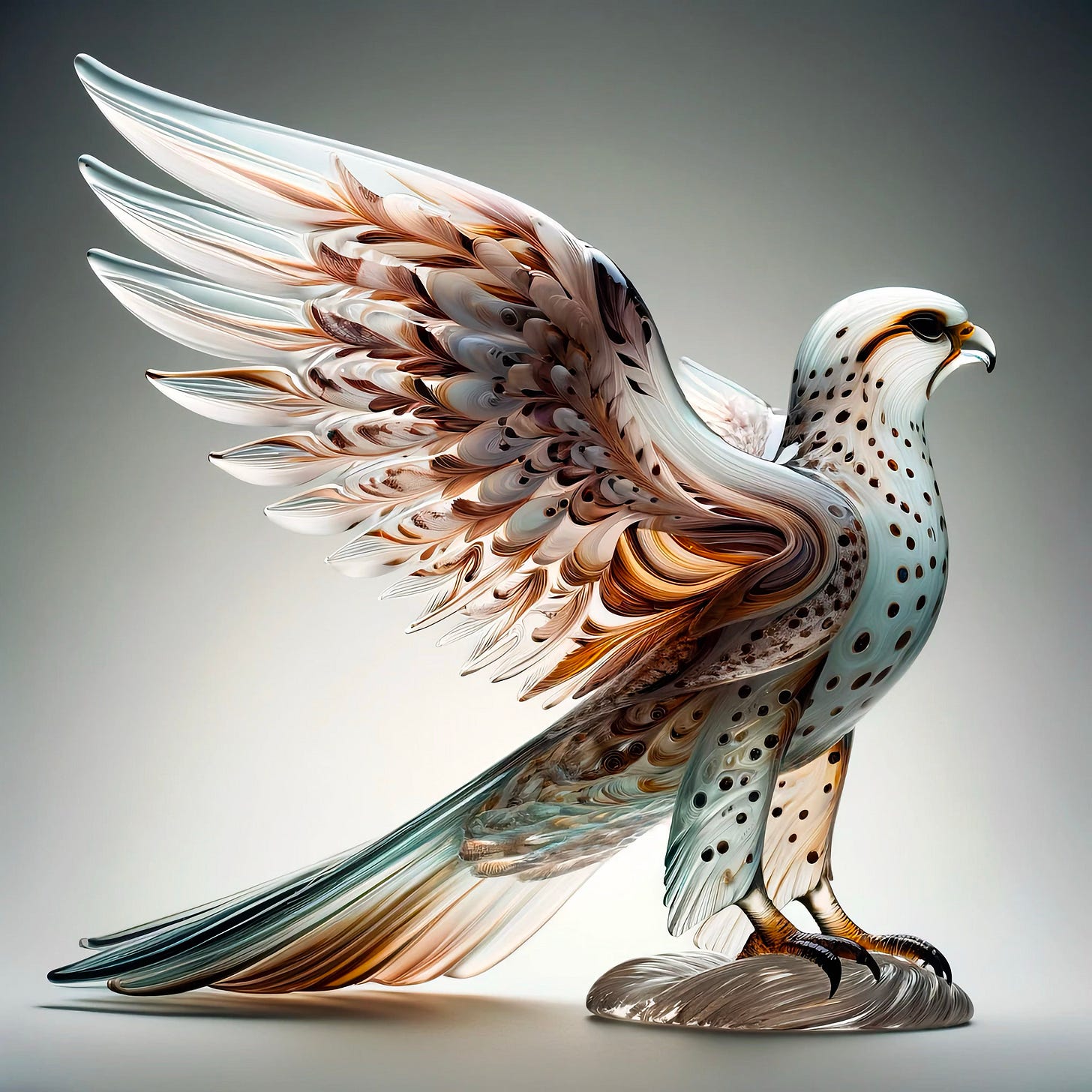 Version 2 had fallen way behind and got me thinking that maybe OpenAI was so focused on ChatGPT/GPT-4 that they had kind of given up even trying to compete, but because the most cutting-edge models are multi-modal, it makes sense for them to look at image genAI as just one more pillar of a larger whole.
I think the most impressive aspect of DALL·E 3 is how you can iterate in the chat interface and keep context. You generate an image, then ask the AI to make it more like this or more like that and you don't have to go back to square one every time.
It's very intuitive, and while Midjourney may be more powerful once you get to know all the incantations, multi-image prompts, and parameters, DALL·E 3 is probably going to produce better results for most people.
Developers can now generate human-quality speech from text via the text-to-speech API.
Based on the sample provided, this is the most natural-sounding AI-generate voice that I've heard yet. It would be great to have this combined with great machine translation to make audiobooks available in dozens and dozens of languages quickly and easily!
More when I've had a chance to play with these things! 👋
Elon Musk's xAI Announces Grok 🤖🐒
SpaceX has Iain M. Banks sci-fi references and xAI is apparently going for Robert Heinlein…
Everything we know about Grok comes from what the company has told us and screenshots shared on Twitter, so it's all very preliminary, and not exactly from unbiased observers.
Grok 1 seems to do well in benchmarks and ranks just below Claude 2 and GPT-4 despite being a smaller model (they mention that Grok 0 had 33bn parameters, but we don't know how many for Grok 1).
But these benchmarks can be unreliable proxies for performance, so I'm waiting for real-world use of the model.
I added my name to the waiting list, but I have no idea how long it may take to get access…
📺✋🧐 YouTube starts to actively fight ad-blockers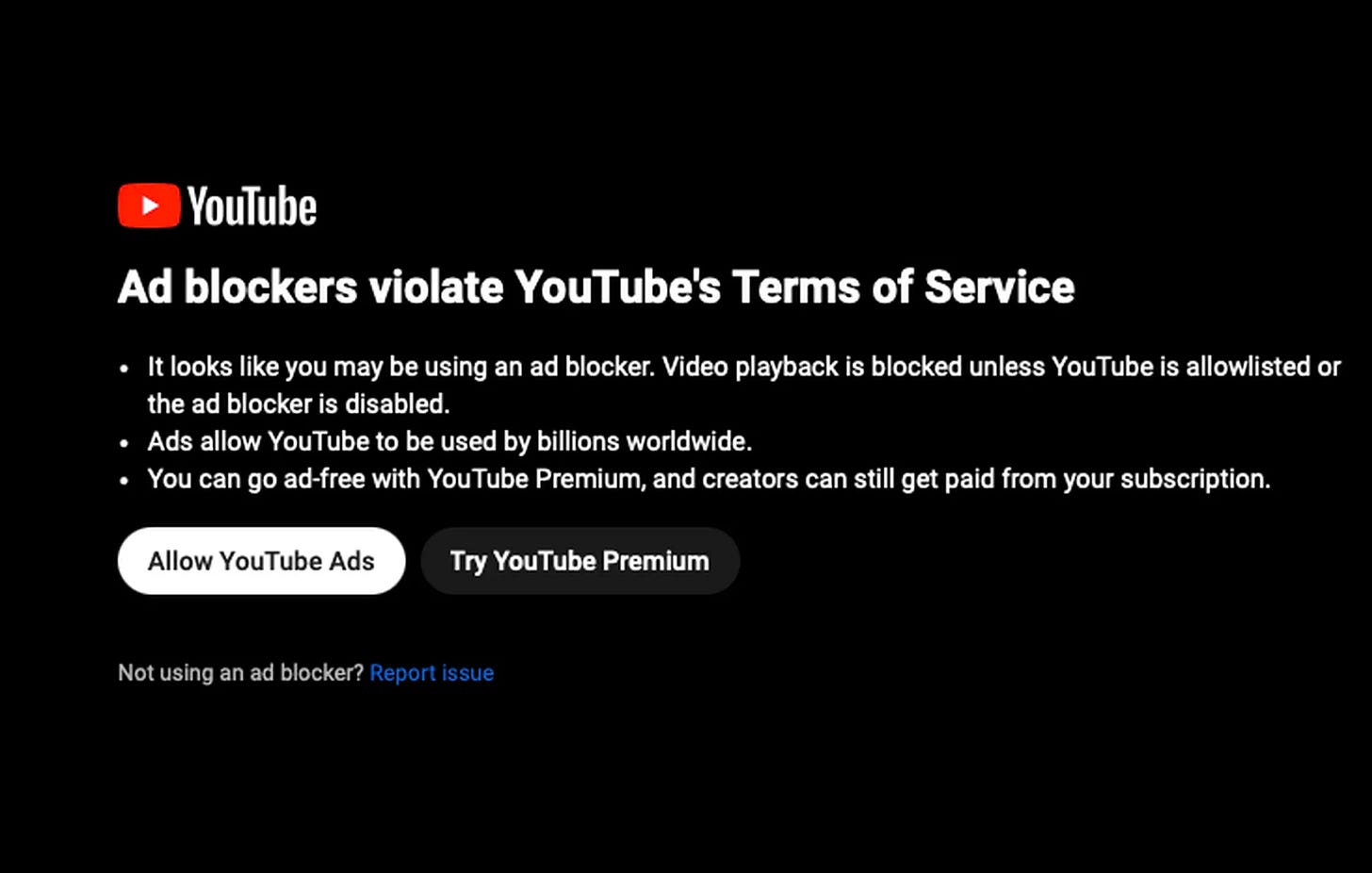 Following Netflix's crackdown on password-sharing, YouTube is now wagging the proverbial finger at people who use ad-blocking extensions in their browsers.
It'll be interesting to see if it drives a lot more signups for YouTube Premium (currently $14/month in the US) and whether there's going to be an arms race with ad-blockers — can they stay ahead of Google or is ad-blocking on YouTube truly about to go away? ¯\_(ツ)_/¯
"Mini-Berkshires" 🧐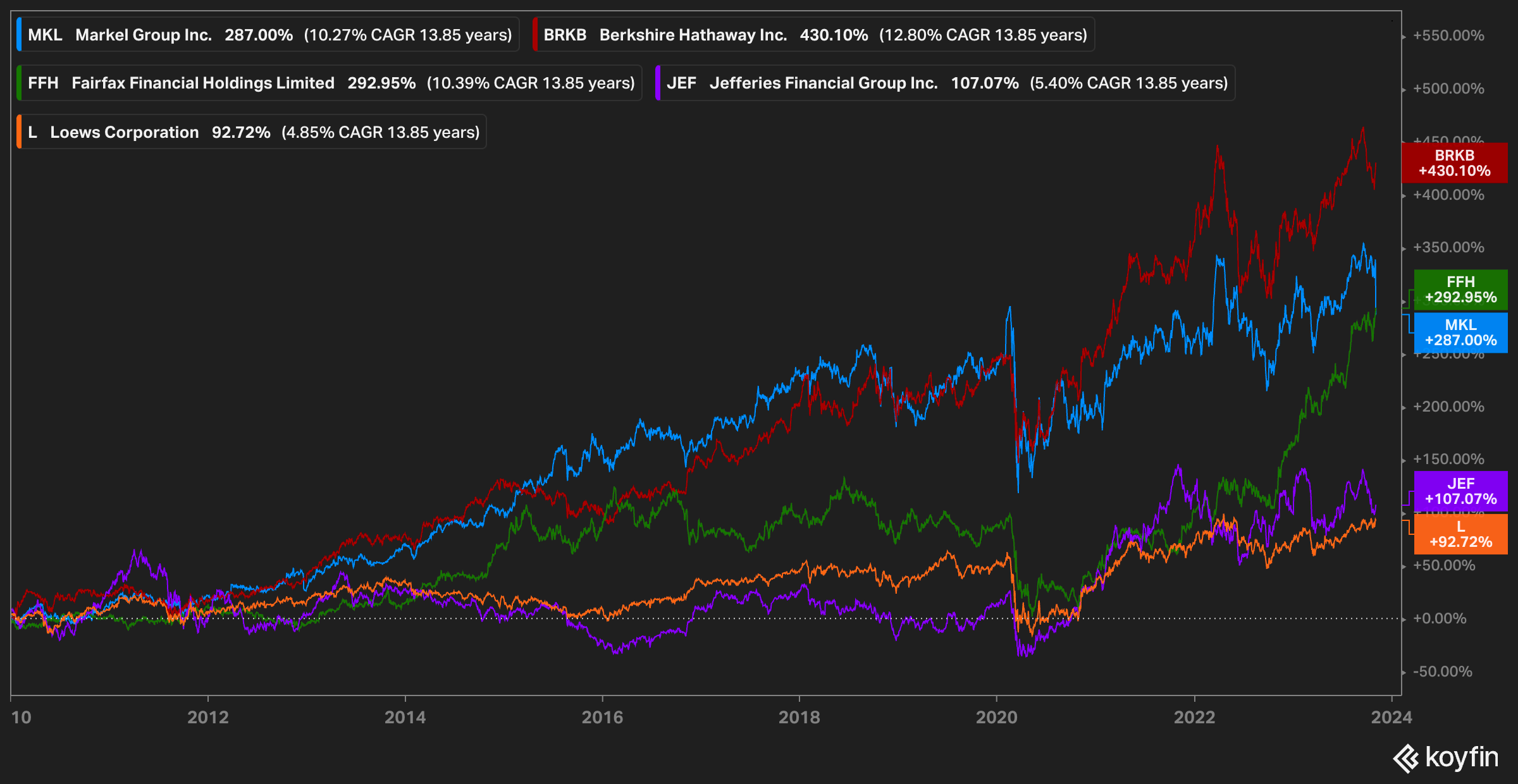 When I started investing, the first company I looked at was Berkshire Hathaway.
At the time, it was a common refrain that despite how great it was, Berkshire's immense size and Buffett's advanced age made it *smarter* to invest in one of the "mini-Berkshires" instead.
The logic went: They're much smaller, so should be able to compound capital faster because their opportunity set is much larger (not as limited by size), and Buffett would likely not be around much longer, while these managers are younger and hungrier.
How did that turn out?
But most importantly: Why?
It's almost a law of the market that the "next XYZ" or the "smaller, earlier version of XYZ" rarely does anywhere near as well as the original.
Despite the downsides to size, there are usually bigger downsides to not being as good as the original. By definition, if a company or investor is so good that people start looking for clones of them elsewhere, they are a *very rare* occurrence. The chances of finding the next one are slim.
But like Mulder, people want to believe — confirmation bias kicks in, the halo effect kicks in, mimetics, FOMO, etc — and expectations get all out of whack. So while the "baby" version of whatever may have done very well in a vacuum, when expectations are set by Warren Buffett's record, you almost can't help but be disappointed.
O Leucadia, Where Art Thou? 🪦
Speaking of mini-Berkshires…
Once in a while, I think about how Leucadia merged with Jeffries to ensure succession and strengthen the vehicle with Rich Handler taking over for Cumming and Steinberg, but in the end, Jeffries seems to have taken over and erased Leucadia from everyone's consciousness...
Tesla Cybertruck Masterplan? 🤭😆
Is the Cybertruck an elaborate prank to make other carmakers come up with stuff like this, and then Tesla can go "just kidding" and release something that looks like an F-150 but better and electric..? 🤔
That would be quite the legendary bait & switch!
Meta Revenues: Basically, just forget the pandemic ever happened and it's a straight line 💰💰💰💰📈💰💰💰💰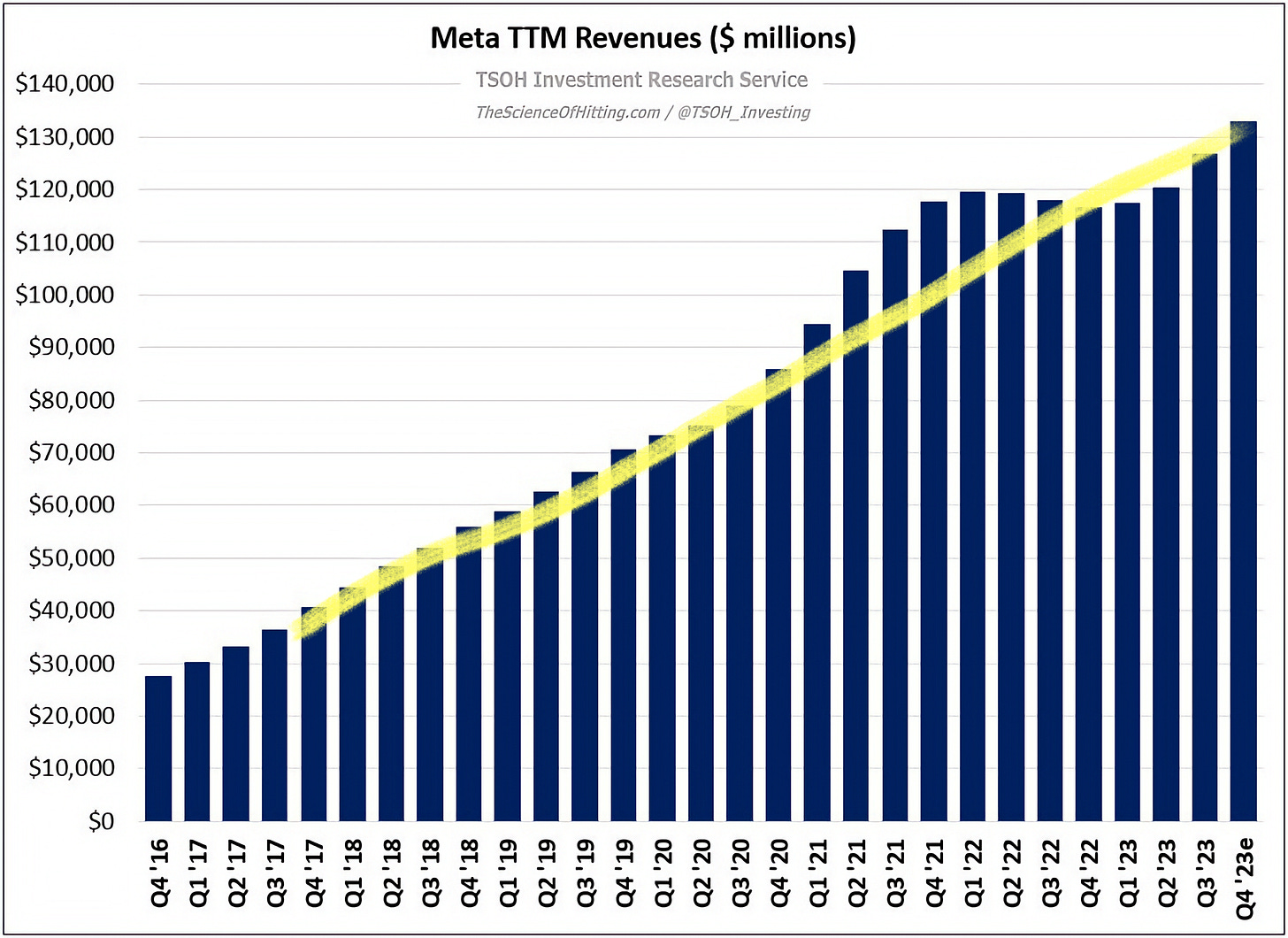 h/t friend-of-the-show Alex Morris (💚 🥃)
---
🧪🔬 Liberty Labs 🧬 🔭
Why line array speakers make musical festivals sound so much better 🔊🔊🔊🔊
I rarely go to live concerts. In theory, they're amazing, but in practice, I rarely find that the benefits make up for all the things I don't like (large crowds, waiting around for a long time, getting through bands I don't like to hear the ones I like, etc).
Maybe it's because I don't go much that I missed this innovation in audio quality. The physics of it are fascinating and seem obvious once explained.
I love the bit about how they use software to position everything very precisely spatially and directionally. One more way that digital tech is making the real world better!
🥱 'Improving deep sleep may prevent dementia' 😴🧠
G'night!
Over the next 17 years of follow-up, there were 52 cases of incident dementia. In Cox regression models adjusted for age, sex, cohort, positivity for at least 1 APOE ε4 allele, smoking status, sleeping medication use, antidepressant use, and anxiolytic use, each percentage decrease in [slow-wave sleep] per year was associated with a 27% increase in the risk of dementia (hazard ratio, 1.27; 95% CI, 1.06-1.54; P = .01).
Dengue rates plunge where scientists gave
Wolbachia
bacteria to mosquitoes 🦟 🦠✋
Dengue, like malaria, is a terrible disease:
Mosquitoes infected with Wolbachia bacteria may be associated with a 97% drop in dengue infections in three cities in Colombia's Aburra Valley. [...]

They found that the introduction of the infected mosquitoes into local mosquito populations was "associated with a significant reduction" in dengue of up to 97% in each city compared to ten years prior to the start of the experiment.
What's cool is that you don't have to keep doing it over and over, as the bacteria stays in the population:
"Once you introduce the Wolbachia mosquitoes into the native mosquito populations, they stay there. You don't have to release more mosquitoes," Biologist Rafael Maciel de Freitas [said]. (Source)
The bacteria helps the mosquitoes resist the viral infection that lead them to be carriers of Dengue and even West Nile virus (you can read more about it here if you're curious).
Personally, I'm in favor of heavy mosquito control anywhere humans are present in any concentration. Mosquitoes can have the rest of the world — the planet is plenty big for everyone — but they've been annoying me for too long…
Alternatively, I'd take a shoulder-mounted automated laser mini-turret that shoots down any mosquitoes in a 30 feet radius 🤔
🇺🇸 The US needs a crapload more electricity transmission capacity ⚡️⚡️⚡️⚡️⚡️⚡️
According to the U.S. Department of Energy:
"This within-region transmission needs increases to 64% (median result) to meet a future with high clean energy growth in 2035. This need rises again to 128%—a more than doubling of the current system—to meet a future with high load growth in 2035."

As for interregional transmission, "capacity must grow by 25% to meet future moderate load and clean energy growth, by 114% to meet moderate load and high clean energy growth, and by 412% to meet high load growth futures by 2035."
Without this, it won't be able to keep increasing solar & wind generation, or at least, not in a way that leads to a grid that works. This will take a long time and cost a lot of money…
An alternative: build nuclear plants near the sites of decommissioned coal plants where there's existing transmission (I wrote about this in Edition #329):
After screening recently retired and active coal plant sites, the study team identified 157 retired coal plant sites and 237 operating coal plant sites as potential candidates for a coal-to-nuclear transition. Of these sites, the team found that 80% are good candidates to host advanced reactors smaller than the gigawatt scale. [...]

It could also increase employment and economic activity within those communities. When a large coal plant is replaced by a nuclear power plant of equivalent size, the study found that jobs in the region could increase by more than 650 permanent positions.
---
🎨 🎭 Liberty Studio 👩‍🎨 🎥
✂️🎞️ 'Filmmakers are choice-makers'
This video looks at the choices that went into making a great-looking period film for… $4m (that's probably the catering on a Marvel film).
I haven't seen 'The Witch' (2015, Robert Eggers), but this video isn't really about the plot, only the creative decisions that went into making it even possible to make it look good, but there are some spoilers in what is shown.